Magnum (the ice cream people) have commissioned Dutch designer Iris van Herpen to design and craft a dress inspired by their own vegan ice cream. That means using sustainable and non-animal based materials.
The dress has been designed, and it was all made possible by use of 3D printed bioplastics made from algae and cocoa bean husks.
You can see the dress, which was shown at this year's Paris Fashion Week in the image below.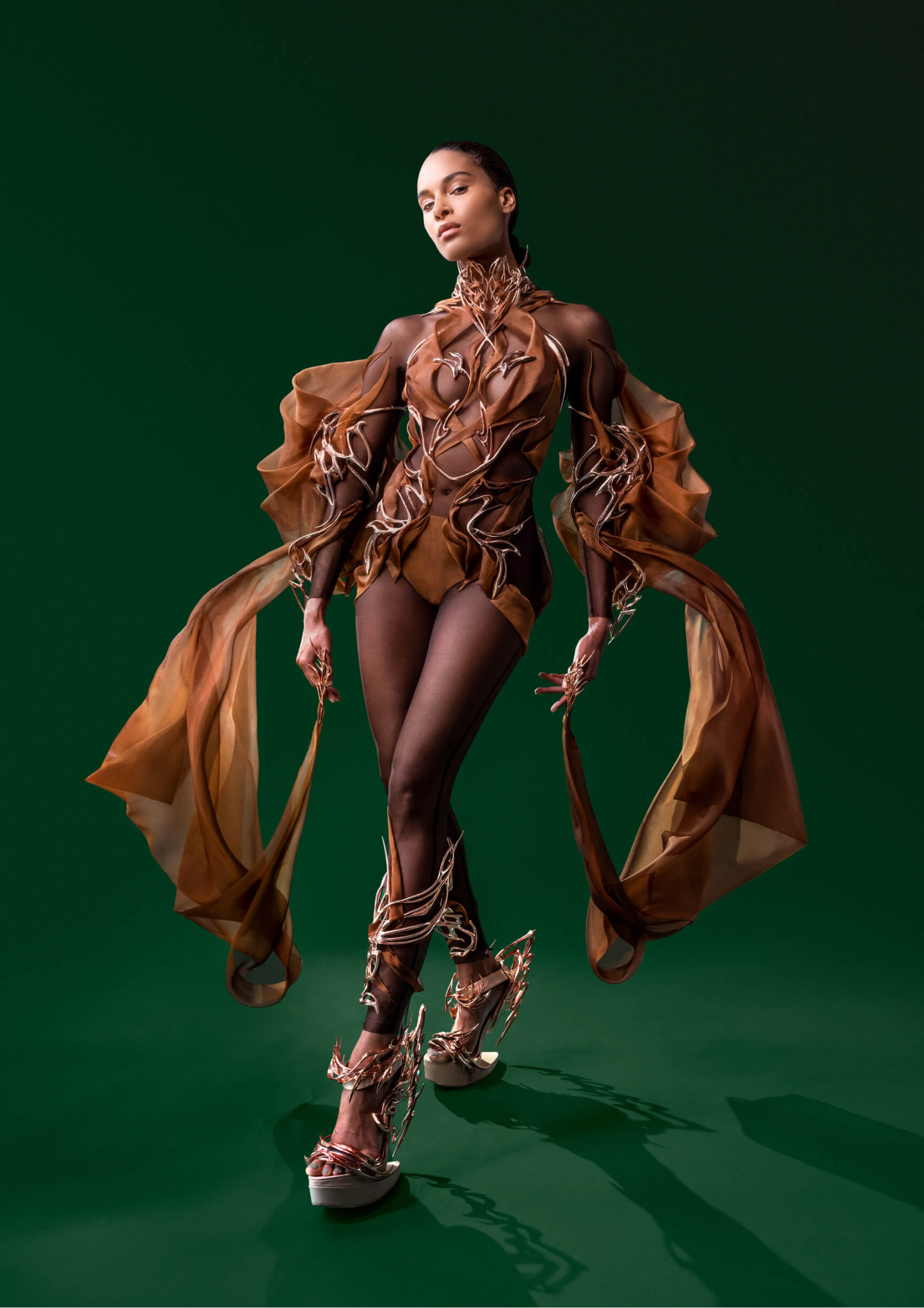 The dress, according to press materials, features plantlike body embellishments which are copper-coated, draped and entwined with upcycled and organza, while the cocoa husk elements were 3D printed.
What is interesting about this story is the use of cocoa husks in the plastic, and how algae is used rather than a traditional consumer plastic in the blend.
Cocoa seeds grow in husks, and these husks form a huge amount of waste in the cocoa industry.
To give you an idea, 1 ton of cocoa beans generates 10 tons of cocoa pod husk as waste. Normally this is left to decay and utilize as an organic manure. Otherwise, it is dried and eventually burnt openly which continues to serious environmental and health issues.
This is one of multiple biological materials being looked at by researchers around the globe as a source of filler material for polymers, which can benefit the mechanical properties as well as reduce the mass of plastic needed.
Some researchers have combined the cocoa pods with PLA to produce bioplastics. This dress however does not combine your common variety of consumer printing plastic with the cocoa husks but relies on a more natural combination of raw materials.
The plastics for the dress were developed with the assistance of Dutch design firm, Studio Klarenbeek & Dros, who have been working on novel bioplastics since 2015. They have previously created biopolymers from other organic raw materials such as algae, mycelium, potato starch and seaweed.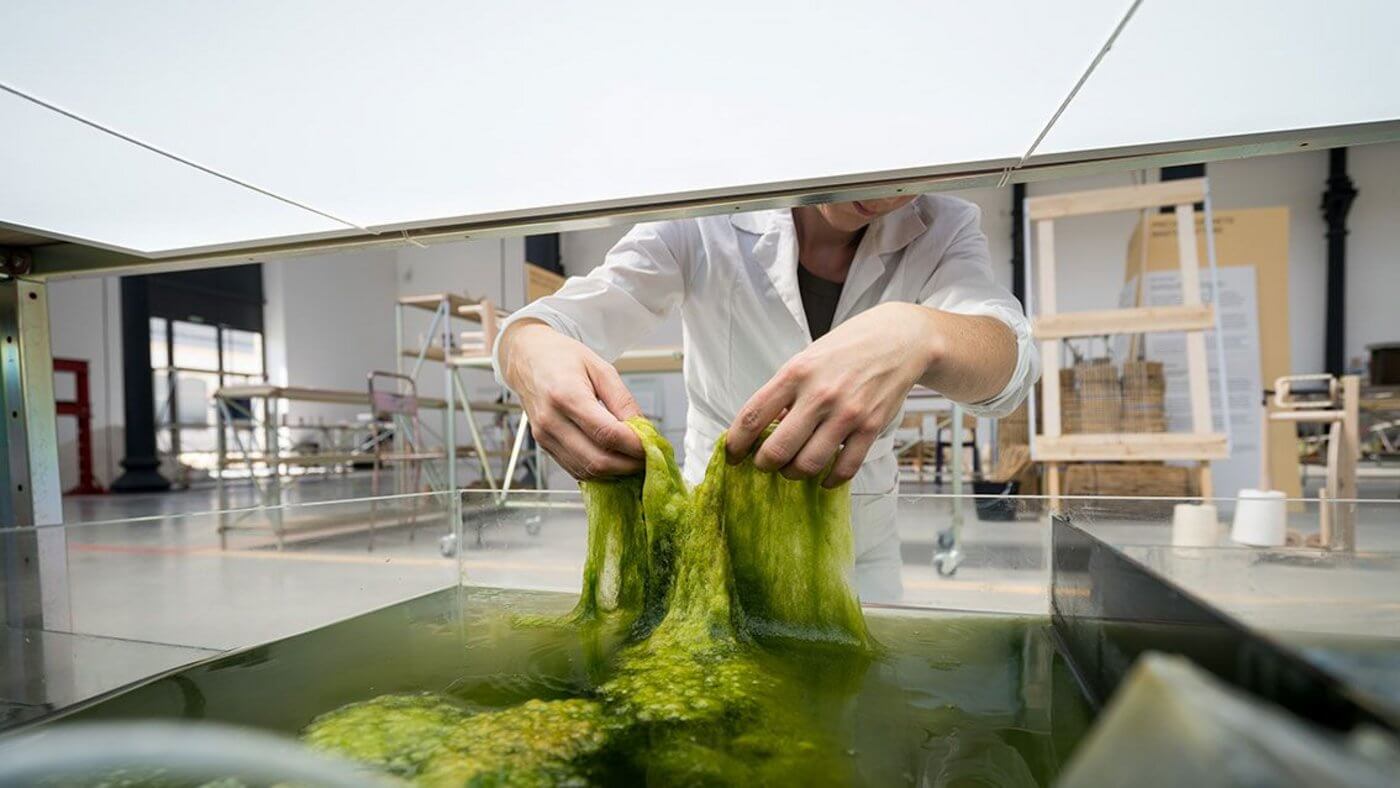 The bioplastic for the dress was produced with the husks, algae and glucose before being converted to a feedstock and printed.
The husks themselves are a lignocellulosic biomass and contain hemicellulose, which itself is a biopolymer.
Algae grows by absorbing carbon while producing complex starches, natural binding agents, and other components for bioplastics, so is inherently a carbon sink. Algae can also grow at sea and on land, or in vertical farms, so it can be grown anywhere.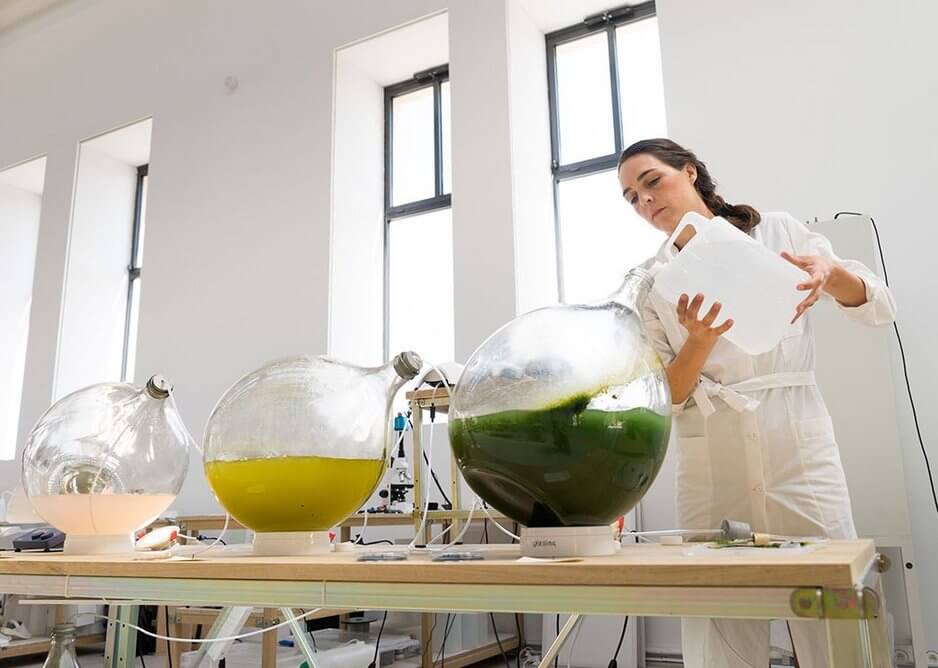 In the past, Klarenbeek & Dros have grown different pigments separately which each produce components for a biopolymer, starch, plasticizer and pigment. These were then blended to form a printable plastic, as you can see in the image below.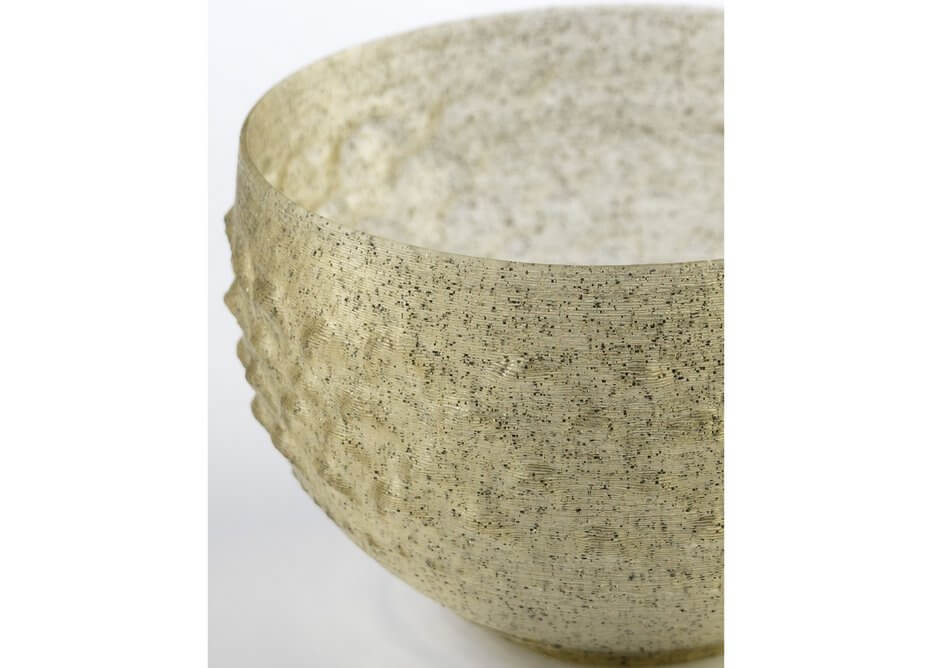 It seems that adding the cacao matter to the mix has provided some pigmentation to the plastics in the dress providing a chocolate color fitting the theme.
In addition, adding different loads of cocoa husk to plastics has been shown to alter the strength and stiffness of the part, according to various research papers.
So there it is. Are algae-based plastics with agri-waste filler the future?
Algae cleans up waste in the water, absorbs CO2 and takes up less space than corn. Seems like a good deal, as long as it can replicate the needs of oil based plastics in terms of durability.